Shirty Electronic Music and DJ Mixes
Find Me Here - Backstory
I had a friend who ran a radio station in Portugal. One day he said to me 'You should record a radio program for me. You can play what you want!' It was a sweet deal and every fortnight for the coming years I produced a radio show for 'Kiss FM Algarve'.
At this time I regularly drove 250 miles from my home in Derbyshire to the seaside city of Brighton, UK. A friend was at university there.
Visiting for a weekend at a time, on Friday we would party to indie rock and roll and on Saturday we'd dance to electronic music.
To me, both types of music were a lot of fun, yet they were always played separately at different venues - so I attempted to play both of these genres together in one continuous DJ mix.
This wasn't easy because electronic music has a mathematically accurate beat whereas indie rock and roll does not.
So, in order to mix the two genres in a DJ set, I extended the intros and outros of indie tracks with electronic beats, at first creating this re-edit of 'The Cure - Close to Me':
I then went on to build more re-edits, creating extended intro/outro versions of most popular indie songs. I played these on my radio show 'Through The Floorboards'.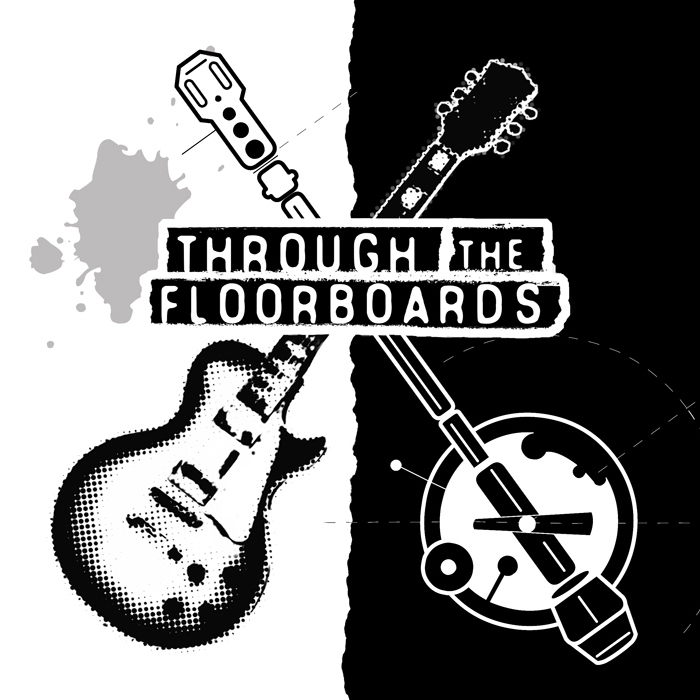 "A crossover of dance music and indie rock and roll in a continuous DJ mix."
You can hear Through The Floorboards at its best in this mix.
Making the show was rewarding, but it was also a technical nightmare. It took a long time to convincingly re-edit the indie rock and roll tracks (and they always needed re-editing to seamlessly fit like jigsaw pieces into the electronic music mix) and sometimes, in the last minutes before my radio show went to air I was still working on the program, which I sent as an mp3 to the radio station's server. On occasion it reached the server only seconds before it played.
I would listen anxiously to the internet stream of 'Kiss FM' to hear if it aired. One week the worse happened... There was nothing but radio silence!
Homemade Loop Pedal
Eventually I ceased recording my radio show and started experimenting. I was excited by the idea of
playing an instrument during a DJ set
; and using my guitar I wanted to create the extended re-edits and remixes in a Through The Floorboards mix - live.
To achieve this I built a loop pedal for Ableton Live from an old computer keyboard (this interest in hacking and electronics later lead to the creation of my
laser drum kit.
)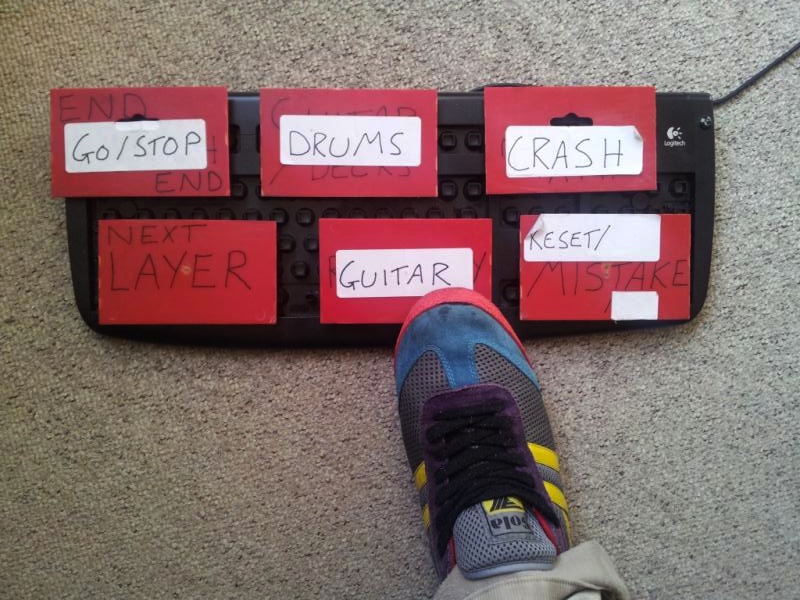 I started to play guitar loops over the top of electronic music, recording my experiments.
As the years passed I learned music production and mastering and I fleshed out these recordings - turning them into the album
'Find Me Here'
in 2018.
My other musical influences for this project include Gui Boratto, Yotto, Kidnap, New Order, Pink Floyd, Deadmau5, Nils Frahm, Ludovico Einaudi, Moby, Gabriel & Dresden and Eric Prydz.

'What does it sound like if you pick four records at random use them to make a new song?'



2018 saw me finish side project 'Arrange Whatever Pieces Come Your Way' (under alias 'Openout') where each song was created from four 7" singles chosen at random from thrift stores.




Shirty Remixes