background
Shirty is a DJ, Musician and Inventor.
Creating
melodic progressive electronic music
, he is exploring new ways of performing with a homemade laser drum kit that visually turns movement into sound.
He has also developed a laser-based video game which debuted at The Franklin Institute, Philadelphia (USA) on June 26th 2018.
Musical influences include Yotto, Kidnap, New Order, Pink Floyd, Deadmau5, Nils Frahm, Moby, Gabriel & Dresden and Eric Prydz.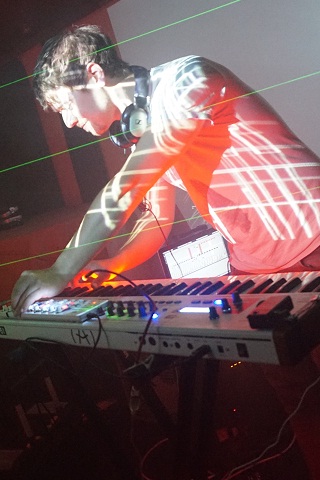 laser drum kit
"Some nights in clubs I'd throw my hands up in the air perfectly in time to something big happening in a track, and I'd feel like I'd made the music happen. It felt great. That's where I got the idea to design a laser drum kit, so that I can move in this natural way and actually make music from my movements. I used lasers because they look good in dark nightclubs.
Building this was also about exploring new ways of performing electronic music that are engaging to watch. It allows me to make new music by improvising during a gig. I can loop and layer the sounds played by the laser beams to construct entire tracks in front of an audience.
I built it in my front room, mostly using parts from the high street and eBay. I used a cool new self curing rubber called Sugru to hold the lasers in place at the correct angles.
I want my laser drum kit to inspire people that music making can be easy, because I've found it such a good thing in life."